trashy blonde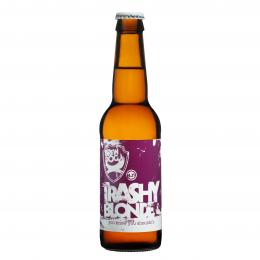 TRASHY BLONDE – you know you shouldn't.
"A titillating, neurotic, peroxide punk of a pale ale. Combining attitude, style, substance and a little bit of low self esteem for good measure; what would your mother say?
You really should just leave it alone…
But you can't get the compulsive malt body and gorgeous dirty blonde colour out of your head. The seductive lure of the sassy passion fruit hop proves too much to resist.
…
All wrapped up with the customary BrewDog bite and imaginative twist.This Trashy Blonde is going to get you into a lot of trouble."
Så långt texten på ölen som M kommer hem med idag. Provsmakning står på tapeten och jag går igång på den sexistiska baksidestexten. Män som skriver nedsättande om kvinnor för att få män att känna sig coola och utvalda…Konstaterar att jag tillhör då inte målgruppen som lockas till köp. Roligt eller provocerande? Koolt? Välj själv!