the curious incident of the dog in the night-time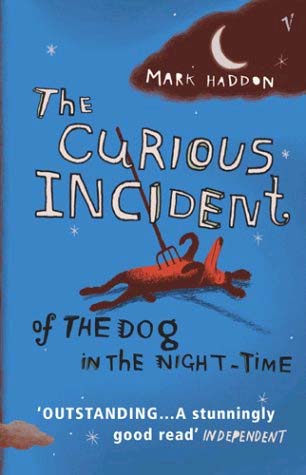 "Wise and bleakly funny"
"A funny as well as a sad book…"
"An impressive achievment and a rewarding read"
Ja, så står det på baksidan av min engelska pocket och alla recensionerna stämmer verkligen. Sällan har jag läst en så speciell bok. Mark Haddon låter oss lära känna Christopher John Francis Boone som när boken börjar finner grannens hund dödad i trädgården. Christopher är berättaren och han duktig på matematik men har annars svårt att klara av vardagen. Hans strategi är att tillämpa logik och matematiska formler även på människor och det funkar sådär. Han är 15 år och lever med sin pappa men han blir efter hundens död rädd för honom och bestämmer sig för att leta upp sin mamma i London. Jag har arbetat med elever med diagnoser inom autismspektrat under lång tid och plötsligt kunde jag leva mig in i hur annorlunda världen verkligen ser ut genom en autistisk persons ögon. Spännande och underhållande, samtidigt djupt gripande. The Curious Incident of the Dog in the Night-Time heter Den besynnerliga händelsen med hunden om natten på svenska. Så bra!